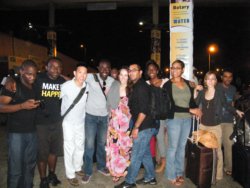 Hello from Ghana! The team arrived on Sunday, June 19 and we spent our first night in Tema. We traveled to Ho the next morning for an orientation and welcome ceremony hosted by Life for the Living Medical Center. We felt honored to have drumming, singing, and dancing from three local cultural performance groups to say "Woezo lo," meaning "You are very welcome!"



Medical Clinic and Public Health Education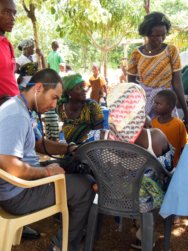 Tuesday we hit the ground running with our first medical clinic in Adigbo Tornu, a small fishing village situated on Lake Volta with no electricity, no clean water source, and no junior or senior high school. We saw about 100 patients before the afternoon rain caused us to pack up for the day around 4:00. We returned the next day to finish seeing patients – bringing the total to 140 – while teaching lessons on nutrition, hygiene, physical therapy, and malaria/bed nets to schoolchildren and adults gathered at the clinic site.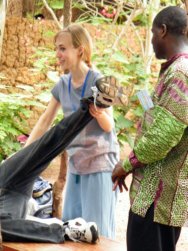 Each night we debriefed about how to make the clinic and education run more smoothly and efficiently. After the first two days in Adigbo Tornu, we made great improvements to Thursday and Friday's medical and educational programs at our second village, Goviefe Todzi. We were able to 218 patients in one day! Thanks to the REACH team, four Ghanaian doctors, the Lilimed volunteers, generous donors, and our community partners each patient was offered medical care, eye screening, glasses, and a mosquito bed net. Friday we returned to the village to do public health education about the causes of sickness, sanitation, schistosomiasis/bilharzia, nutrition, and malaria prevention and treatment with the students.
We're undertaking research on malaria knowledge, attitudes, and practices in each community that we visit. Paired with local translators, three REACH team members venture out each day to survey village residents. Even after the first few days of research we've realized some interesting results – some people don't mention mosquito bites as a cause of malaria, thinking that it comes from being in the sun or ingesting dirty food/water. These preliminary findings demonstrate the importance of education in the battle against malaria. Conducting the surveys is a great opportunity to meet community members and see their way of living. We look forward to continuing the research to better understand villagers' thoughts on malaria in order to help reduce the burden of malaria.
Meeting with the Paramount Chief of Goviefe Todzi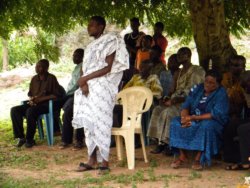 Our last afternoon in Goviefe Todzi we were warmly received by the Paramount Chief of the community, Togbe Sacrafo the 10th. Sitting in the shade awaiting his arrival, the local Bobobo drumming/dance group marched in and performed for us. Over the course of the meeting, they performed twice more (they like to dance…and they're good)! Through a speech written beforehand and read by a village elder, the Chief expressed the community's excitement about forming an ongoing partnership with REACH 4 Ghana. After listing the community's development projects underway and hoped for, he said their highest priority was to build a medical clinic in the village. Goviefe Todzi is situated on the top of a mountain with a precarious road to the nearest town; in his words, "If we don't act fast, a sick person may die."


Until Next Time . . .
This week we're visiting two more communities and doing public health education at Mawuko Girls School in Ho. Look out for another update soon. Hope you have a great week!
Sincerely,
REACH 4 Ghana Team
Week 2 Update
Greetings once again from the REACH 4 Ghana team. We hope this update finds you all doing well. Thus past week has been full of enriching experiences and we're grateful to be able to share them with you. Thank you, as always for your support which has made our time in Ghana a reality.
Medical Clinic Update
Last Monday morning we headed to Peki Agbateh, a farming community in the South Dayi district of the Volta Region. We drove into the community along a bumpy dirt road with pineapple farms on either side to arrive at the school building – our clinic site! We saw the most patients so far at Peki – 262 on Monday and 70 more the following morning. 130 were given bed nets and 75 received eyeglasses. One man had broken his arm over 3 months ago and still hadn't been to the hospital. Another had a blood pressure of nearly 300 (systolic). Malaria was also a significant problem in the community; many people came to the clinic with headache, loss of appetite, and a cyclical pattern of fever. When we met the elders and leaders of this community, they gave us another warm reception - dressing the team in ceremonial bracelets and necklaces and adorning Allison, Albert, and Jeremy in traditional garb.
Wednesday's clinic in Logba Horglikope, a community of only 400 people, offered many learning experiences for the team. Firstly, we saw several rare conditions among the patients: elephantiasis of the breast and Bell's palsy to name a few. Secondly, several of us used the "private" in Logba – an ingenious alternative to a latrine. It was an open-air deep hole with logs buried across the top as slats to stand on. It was situated far from the villages homes to avoid sanitation issues and could be filled in with dirt and replicated when needed.
Eye Operation in Accra
Thursday morning we boarded the team bus at 5:30 am for Accra, where we would observe an ophthalmologist perform eye surgery on more than a dozen cataract patients who had been identified during our clinic days in the villages. For all who held the National Health Insurance, the operation was free and the transportation was funded by the clinic in Accra, Save the Nation's Sight. With one operation lasting only 10-15 minutes (after the initial preparation), the REACH team took turns scrubbing in and observing the miraculous surgery that corrects the most common cause of preventable blindness.
Education - in Village and at Girls' School
In addition to teaching in the rural community schools, we had the opportunity to do a health education program at the Mawuko Girls' Senior High School in Ho. There we divided the assembly of 300+ girls to discuss the following topics: women's health, self-esteem, sexual health, nutrition and exercise, healthy relationships, and career development. The students were very bright and extremely enthusiastic about the lessons. Many approached the REACH team members afterward with more questions and some expressed a desire to do what we were doing – teaching youth about matters of health.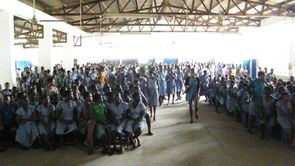 Volleyball and Soccer with Kids
Before leaving the Mawuko campus, we had a volleyball match: Mawuko vs. REACH! Even though they beat us (twice!), we wish to strengthen our partnership with their administration and student body for the future outreaches. We've been keeping active, as we also played soccer – in Ghana, that is "football" – with the students at McCollin's Preparatory School and Orphanage Centre. We tied 5 to 5, so we're thinking about scheduling a rematch for Wednesday, July 6th!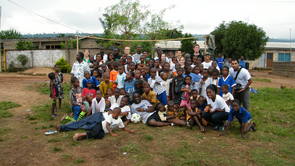 The last week
This week we're visiting one more communities with the medical clinic and education, and we're going back to the McCollin's Centre to do eye screening and education for the kids. Thursday we're planning to meet with the Regional Minister of the Volta Region and tour the Volta Regional Hospital. We're going for a short jaunt to Cape Coast for our final weekend and then we fly out on Sunday. We will certainly let you know when we arrive back in the States! Thanks so much once again for your support.
Sincerely,
REACH 4 Ghana Team
With the REACH 4 Ghana team back in the United States, we are excited to share about our action-packed final week in Ghana. As we do so, we are filled with fond memories of our time there and gratitude for the comforts of life in America.
Thank you for your support – you have made this mission possible. Our experience in Ghana and the services we were able to provide have changed our lives and the lives of many others.
Overnight in Akpafu Todzi
On Monday we set out early for the final and furthest community, Akpafu Todzi which sat atop a mountian reached by a 2 km road. Due to its considerable distance from our base of operations in Ho, the team chose to stay overnight in the village. Our first day was the clinic and the second was education in the schools. With only two physicians able to join us for the clinic, we still saw around 235 patients. It was getting close to dark as the last few people received their medicines, eyeglasses, and bednets.
Several of the women from the mountain-top community made us a delicious dinner of jollof rice and fried tilapia (a frozen gift from Peki Agbateh). With full bellies, we hung our mosquito nets and laid out our sleeping pads on the floor of our quarters – a few extra rooms typically used for hosting guests! Then the drumming commenced. Villagers streamed down from the hilly neighborhoods to dance with us till we moved indoors to sleep. The following morning we joined the school children at 8 am to teach about sanitation, malaria, nutrition, and bilharzia.
Meeting the Volta Regional Minister
Thursday afternoon brought us to the office of the Volta Regional Minister, Honorable Joe Z. Amenowode. As Reverend Bankas had arranged for us to meet the Minister, traditional protocol dictated that he state the purpose of our coming and make introductions. Jeremy introduced the rest of the team and we proceeded to have a conversation about how the trip had gone. The Minister was also interested to hear about how the team had liked Ghana; he asked about the food and the different sites that we'd had the opportunity to see. We found out that he had gone to school in New York City for a time, and that his favorite food there was Chinese! Toward the end of the conversation we asked how the government could partner with efforts like ours to better serve the people. He expressed his desire for this to happen and shared that plans were in the works for starting a medical school in Ho, the capital of the Volta Region. In the future, there may be opportunities to teach students from the school and even partner with them in going out on rural outreaches. Exciting!
After saying an emotional good-bye at the closing ceremony held at the Lilimed clinic Thursday evening, we set out for Cape Coast at 5:30 AM Friday morning. I think it may be said that if you go to Ghana, you have to go to Cape Coast. Driving to Accra and then two and a half hours more, we arrived at the fabled city where both Kenneth and Albert went to high school. Cape Coast is known for the castle on its shores, the Cape Coast Castle. Friday afternoon we went for a tour, learning much about the history of European involvement in the area and how the castle served as the "point-of-no-return" for slaves being transported to North America and the Carribean. The evils of the horrible practice were terribly apparent as we walked through the small, dark, and stuffy rooms where hundreds of people at a time were trapped as they awaited shipment. An inscription on the castle states, "…May humanity never again perpetuate such injustice against humanity. We, the living, vow to uphold this."
The next day we went to Kakum National Park where we did the renowned "canopy walk." We were 40 meters above the ground in the emergent layer of the rainforest swinging to and fro on a suspension bridge! It was a truly beautiful and unique experience. We returned to Accra and stayed one more night to be ready to catch our flights the following day, a Sunday.
Safely back in the U.S., I think we can sit back and say "Mission Accomplished!" By our estimates, over the course of five villages, about 1,100 patients were seen by a doctor and most of those were also screened by an optometrist. 20 people received free cataract surgery, 796 received mosquito nets with malaria education, and about 600 schoolchildren were taught about sanitation, malaria, and nutrition. Students at the McCollins Preparatory School and Orphanage Center received public health education and tied us in a competitive football (soccer) match, while the ladies at Mawuko Girls School received various health lessons, career development advice, and suggestions for healthy relationships. After that, we must mention, they stomped us in volleyball!
Yes, mission accomplished for this year, but there is still much more to be done. We met the Regional Minister and we've identified areas where we could partner with the government. We've heard from the communities about their needs and realize that developments in infrastructure and education will have a positive impact on their health. We've worked with Lilimed in bringing the medical clinic to five villages and we've noted many areas where we can improve for next year. What's ahead? Enthusiastic M1s arrive in two weeks - we will recruit them to be a part of the REACH mission and begin preparing for next year. We're thankful for each of you and for your faithful support. We're excited about moving forward together to better serve the people of the rural Volta Region.

Sincerely,
REACH 4 Ghana Team